Creative Image Solutions
Welcome to our Design Studio
Welcome to Signswest. A full service sign company dedicated to the highest quality in creative signage solutions. From imagination and concept through to production and installation, we bring your image to life.
Thanks for visiting.
Take a moment to browse through our site and view a variety of sign works we have completed throughout the North West region and beyond. With over 18 years experience in the sign industry, you'll agree we are your best choice for creative signage, vehicle advertising and logo concept and design.
NEED SAFETY OR ROAD SIGNS?
Check out our new safety signs catalogue
Signage Services
Vehicles & Boats
Vehicles
We can provide signage for: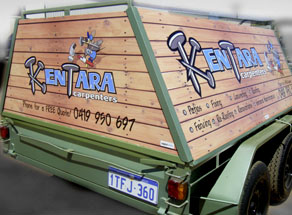 Cars
Vans
Trucks
Buses
Bikes
Trailers
Whhel Covers
Magnetic Signs
We can help you with all types of signage too, from all vinyl signage to a combination of vinyl and paint through to custom paint and airbrush signage and graphics.
It is not just a sign, it is vehicle advertising.
Unique custom signage is one of the most cost effective advertising tools available to small businesses. Our signage is designed to last for many years, and it works for you everyday for 365 days a year! It makes vehicle advertising one of the most economical forms of advertising.
If you consider the amount of people who see your vehicle around town, wherever you or your staff go, how can you afford not to advertise on your vehicle.
Boats
We can design a style that suits your boat – from standard lettering to customised script, graphics and pinstriping. Whatever you need to make your boat look fantastic in the water. From the simplist text to the most complex designs, we can transform your boat for you.
Race Cars
Stock Cars
Sprint Cars
Trailers
Helmets
Go Karts
Motor Bikes
Is your Speedway car or go-kart fast, but looks sad? Does it need new life and vitality? Signswest creates a real eye catching vehicle that will be noticed as you flash past the finish line.
Keep your sponsors happy by showing them they are part of a quality outfit. Race car advertising can not only look good, but it can be fruitful for you. Everyone remembers that fantastic looking car that crossed the line, probably more so than the average looking car that came in first.
Banners and Display Signs
Banners & Pull Up Banners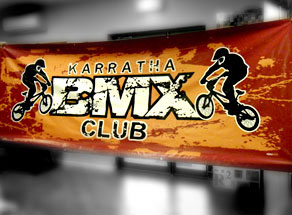 The ultimate in portable advertising, banners can be used indoors and out as a means of gaining instant attention. Large or small we can design the right banner to help promote your special event, whether it is a grand opening, fete, community event or function.
A Frames
A frames are ideal for directing potential customers to your business. If you are in a location that may not be in a high profile position, or a difficult to find place, the right A frame sign can catch people's attention and help to highlight both your business name, products and location.
Novelty Displays
Other types of display signs, including those made from materials such as coreflute, HIP or acrylic can provide quality signage at a price to suit any budget and position. Whether it be for a one off event, a special occasion or a more permanent display, we can create designs for you to catch everyones attention.
Commercial Signage
Internal & External Signs
Whether you require a complete shop makeover with painted fascias and other signs, or a simple sign with or without a frame, we can create and install all types of signs to suit any location, style and budget.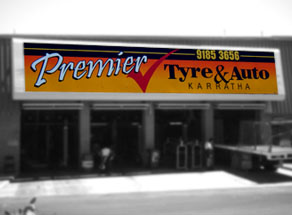 Freestanding & Pylons
Want to catch the attention of vehicles passing by? Try mounting your sign onto poles and putting it in a prominent position. Perhaps even mount it onto a Pylon sign – either illuminated or non – illuminated. You're bound to attract the attention of everyone with easily visible signage.
Dimensional and Illuminated Signs
Put your name up in lights – or have it stand out from the crowd. Either way, your customers will appreciate the attention to detail dimensional or illuminated signs will give. Any design, any location, we can create it for you.
Window Splashes
Do you need to attract attention to your business? Street, window and door graphics will attract new clients into your business with eye-catching designs and colours.
These can be hand painted, for short and medium term time frames. For longer lasting and permanent signage these can be done in vinyl, which can also be temporary, but can also last for the long term both indoors and out.
Industrial Signage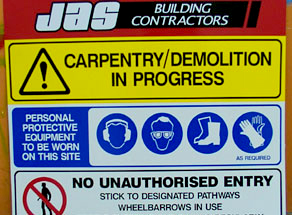 Industrial Signage
Safety signs
Information signs
Road and traffic signs
Workshop signs
S/A decals and tags
Fleetmarking
Magnetic
Post and Bracket Systems
Living and working in the Hills District, we are well aware of the importance of visually clear, easily interpretted safety and information signage. They play an important role in every organisation's safety scheme.
We are up to date with relevant standards and requirements, including; HISAFE, DAMSAFE, NOSA, Australian Standards and MRD (Main Roads) Standards.
Materials
Metal, Aluminium, Acrylic, HIP, S/A Vinyl
Reflective for night or underground visibility
Specialty Signage
Menu Boards
Do you want your menu boards to stand out and provide a talking point for your customers? We can liven up even the most mundane menu or wall, with graphics and colour in any medium – chalk, paint or vinyl.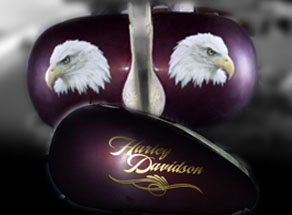 Whiteboards
Give your whiteboard the professional look. By creating permanent signage and pinlines on a whiteboard, it will continue looking pristine, no matter how often it is written on and rubbed off.
Honour Boards
We can create a new board from scratch for you, or update the one you have with the latest information.
Airbrush and Specialty Signs
Do you have that something special you would like a graphic on, something a bit different to everyone else? What about airbrushing an artwork? Creating that extra finish that is out of the ordinary.
What about specific signage to suit any purpose? Directonial or maps, tourist information or novelty signage. Whatever you need, we can design and create it for you!
Graphic Design
Logo Design
Your company logo is the cornerstone of your business image. It lets the public know what kind of business you have and is generally the first impression people get of your business. First Impressions Count!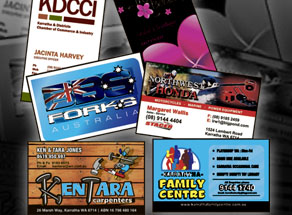 Establishing a visual look for your company is vital. Eye grabbing visual statements to your potential customers sets you apart and above your competition. Our designs are created with the intention of using it in all areas of your business, such as; signage, vehicles, uniforms, letterheads, business cards and advertising. By keeping your logo consistent through all aspects of your business it conveys your professionalism to the public.
Whether your business requires a conservative corporate image through to a creative custom logo, we can develop an appropriate image to represent your business and identity.
Business Cards
What's the first thing you do when you meet a new customer? Hand them your business card of course. Shouldn't that first contact leave an impression, by making a statement about your business? We can design and produce full colour cards designed to impress. They will tell your potential customers that you are serious about your business and the image it projects.
The cards are printed on coated 350GSM stock and finished with either a gloss or matt finish. We now also offer rounded edges.
Put your business and all the information they need, right into their hand.
Digital Printing
S/A Decals
Photo Signs
Large Format Digital Printing
Whether it's a one off, small run or large quantity, thermal Digital Printing allows full colour graphics and / or spot colour decals and printed photographs to be included with your signage. Digital Thermal printing is the way to go. Vibrant, eye catching and UV stable S/A Decals, for a multitude of uses.